The 10 most beautiful coves in Majorca
Majorca is a magnificent island with a wide variety of landscapes. It is composed of dozens of coves, each one as beautiful as the next. Located in the South-Est of Spain, the largest Island named Balearic is a true mediteranean jewel that never misses to charm its visitors. Lush vegetation, mountain ranges, rocky cliffs, crystal clear turquoise waters, Majorca's coves have everything to please.
Would you like to spend some relaxing time alone, with family or friends in a heavenly place? Discover the top 10 most beautiful coves in Majorca.
CALA SANT VICENÇ
Do you like beautiful, spectacular things? You will enjoy Cala Sat Vicenç, one of the most beautiful coves in Majorca. With its clear and limpid water, this cove is the ideal place to relax with your partner, family or friends.
Cala Sant Vicenç is composed with 3 coves: la cala moins, la cala clara and clara Barques. The richness of its history makes it a favorite destination for experts in aquatic archeology. Villas for rent are found in the vicinity of this cove.
CALO DES MORO
Also known as Playa de Muro, calo des Moro is undoubtedly one of the most beautiful coves in Mallorca. Located between Can Picafort and the Aludia port, Calo des Moro offers the possibility to its visitors a heavenly setting which gives the opportunity to relax that is well worth a visit. Visitors can snorkel along the cliffs.
The calo des Moro is convenient for swimming with its shallow waters. Its white sand and turquoise waters make it a hypnotic place.
CALA FORMENTOR
Situated in few kilometers away from the Pollença port, the Cala Formentor offers to its visitors a magnificent landscape surrounded by cliffs and pine forests. Its crystal clear water and its fine golden sand give it a certain charm.
Visitors can taste the local cuisine in the cove's restaurants. They can also go jet skiing or rent umbrellas to chill out and enjoy the beauty of the beach. That's why, it's the one of the most beautiful coves in Majorca.
CALA PI
Calapi also offers a beautiful swimming area to its visitors. Surrounded on both sides by two high cliffs, it has a natural and wild charm, despite the presence of modern constructions in the area.
The Cala Pi is narrow and long, and surrounded by junipers and pines. Visitors mainly come to enjoy the soothing calm, the landscape, the sun and the beautiful views. To get to Cala Pi, they have to climb 147 stone stairs.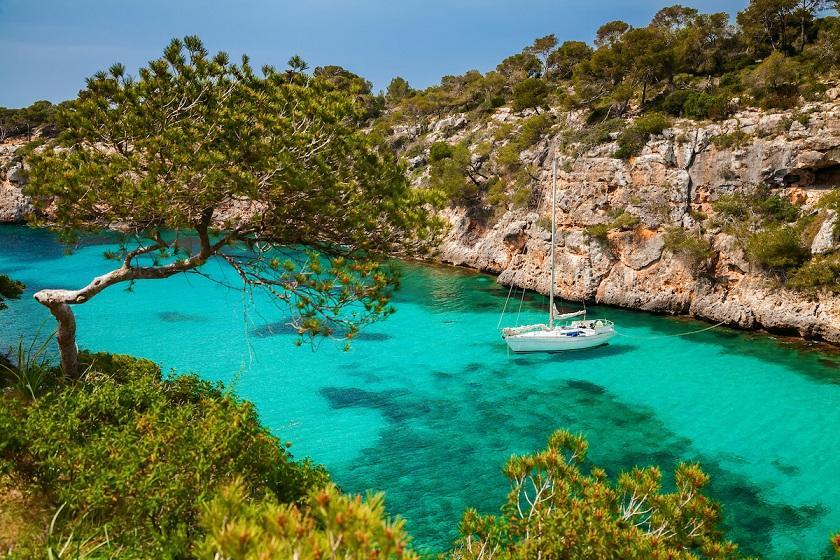 CALA BELTRAN
If you like wild coves, you will love Cala Beltran for sure. Located off the beaten track, this hidden gem offers a breathtaking beauty landscape. Its green trees, orange and white cliffs and turquoise water form a harmonious and aesthetic sight.
Cala Beltran isn't very wide. It is rather narrow with a waterway that extends over a long distance. It has no beach for visitors to lie down and enjoy the view and the sun.
ALCUDIA PORT
Alcudia port is a cove that extends in several kilometers with fine and golden sand. Bounded by the port and the playa de Muro, it has a blue flag guarantee thanks to the cleanliness of its beach and water. Visitors can relax on loungers. They can also practice all types of sports if they want to.
SA CALOBRA
Composed by two coves, the Sa Calobra offers a practical canyoning area for its visitors. Located in the north-east of Majorca, it is composed of two beaches enclosed by two stone cliffs.
Sa Calobra has clear, algae-free water, but is deep and perfect for diving. To get to this place, the one of the most beautiful coves in Majorca, visitors have to go through a very narrow road.
CALA MONDRAGO
Cala Mondrago forms a heavenly landscape with its crystal clear turquoise waters and its fine white sandy beach. Located a few kilometers away from Cala de Santanyi, Mondrago offers a wild and soothing view. The cove is surrounded by cliffs, farmland, and umbrella pines and is a shelter for thousands of birds. This has earned it the title of Natural Area of special interest for birds.
CALA D'OR
If you are searching for a cove to visit with your family, the Cala d'or is the one made for you. Situated on the south-east coast, it's the ideal place to chill out for those who want to unwind. Surrounded by trees, it's a pure mix of a strong value, modernity and charm. Composed of 3 coves, it offers a tranquil atmosphere that is much appreciated by visitors.
CALA D'ÉGOS
Situated a few kilometers away from Cala d'or, the Cala d'égos is one of the most beautiful coves in Majorca. It offers to its visitors, the possibility of anchoring, diving and swimming. You can also find scrubland and pine trees in it, forming a steep, dry landscape.
To get to this place, visitors have to walk about 4 kilometers.
Apart from the above-mentioned places, you can also visit magnificent places such as Cala Ilomba, Cala figuera, Cala barques, Cala agulla and Cala Mesquida.